Ask the experts
Here is a selection of Q&As from Your East Anglian Wedding magazine. If you would like your question answered by our experts, please email it to editor@youreastanglian.wedding.
To view more Q&A's on a different topic, please select one from the list below.
Hot topic: Winter weddings
Local experts advise on seasonal big-day styling
---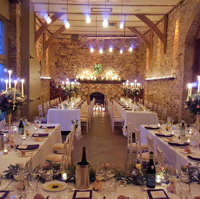 Winter warmers
Q. We want our winter wedding to encapsulate all the magic of the season. What would you suggest for the reception décor to wow our guests without costing the earth?
A. Sarah Softley says: Winter weddings can be magical whatever your budget or style of venue. Candles always add an extra dimension and really come into their own for a winter wedding. Storm lanterns with church candles, pretty votives with tea lights nestled in winter foliage or surrounded by wreaths of flowers and single stems submerged in tall slim vases with floating candles all add to the atmosphere. If your venue doesn't allow candles, strings of white battery-operated lights on thin wires can be woven through foliage or placed inside a vase or wine bottle. Faux candles have come a long way too, we love the wax church candles with sunken wicks – perfect when naked flames aren't permitted.

Keeping your guests toasty is a must. If you're getting married in a church, hand warmers are always appreciated and for arrival drinks at the reception a glass or cup of something warming always goes down a treat. Some of our favourites are mulled cider, an espresso cup of hot chocolate with Baileys or a shot of hot soup.
---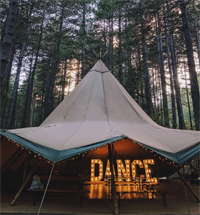 Snug as a bug
Q. We love the idea of a winter wedding and ideally would like to have a bespoke personal celebration on my parents' land but am I completely bonkers to be thinking about an outdoorsy reception in December?
A. Jenna Ackerley says: Not at all! Unlike marquees and other types of tents, tipis in particular are a brilliant choice for the cold winter months. Designed for freezing conditions in Lapland they're really robust and keep the heat in brilliantly. Adding solid wooden doors and lanterns lining the entry sets the scene when guests arrive, while inside you can create a beautiful winter wonderland – think fir trees, moody lighting and picture-perfect place settings.

Smaller Kung-style tipis make the ideal space for a cosy chill-out zone to complete the look, with the option of incorporating a real fire to keep everyone toasty. Don't panic about unpredictable weather stopping play during set-up either. Your supplier should factor in the shorter daylight hours and work around the elements to make sure your tipis are looking spectacular for your big day.

It's an ideal time of year for the savvy, budget-conscious bride too! Booking outside of the busy summer season means you can take advantage of the winter discounts many suppliers offer.
---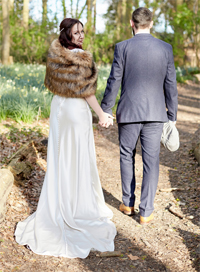 Your style, your day
Q. We're getting married next winter in a historic venue and, weather permitting, hope to be able to make use of the fabulous grounds. What type of dress would you suggest that will not only look glamorous and be warm enough to pose for photos outside, but also light and comfortable enough for dancing the night away?
A. Rachael Fox says: To keep the chills at bay, layered accessories are the way to go, so be brave and mix it up to suit your look. A faux fur coat or shrug has a warm and glamorous feel and will protect your shoulders while a wrap or light fluffy mohair cardigan can give a relaxed, preppy vibe. If your style is more towards the vintage, then consider a shawl. A crocheted number creates a homespun look or for something more personal, many independent designers will happily customise a favourite piece such as a leather jacket to make a bold statement – special wording with bright artwork is sure to make an impact!

From light and simple to bold and bright, whatever you choose should feel right for you and your style. And when you're indoors partying the night away, just slip it off or carry on wearing it if it makes you feel fabulous. It's your day, enjoy it!
---
Seasonal stunners
Q. We want our wedding flowers to be really eye-catching but as we're getting married in the winter, we're worried there won't be much to choose from. I don't want to blow the budget on costly exotic blooms, so what would you suggest that's seasonal and will look amazing too?
A. Katherine Hadingham says: This time of year offers an amazing array of textures and interesting seasonal foliage, which can be used to keep costs down while still achieving eyecatching designs. Why not go all out on a statement piece, such as a large-scale foliage wreath on a focal wall? This would not only create a talking point, but also reduce the need for too many extra decorations.

White and green flowers are always classic and on-trend, and can work with any colour scheme. Combined with silvery green such as pine and berried eucalyptus and darker wintery varieties like viburnum and skimmia, you're sure to have some stunning bouquets.

Candles interspersed either within or around your floral arrangements help to create a really warm romantic feel. Some of my favourite wintery blooms are astrantias, amaryllis – great for adding impact to designs – hellebores, hypericum, thistles and waxflowers, to name a few.
---
Contact our experts...
Katherine Hadingham
Florist
Rachael Fox
Bridal designer
---