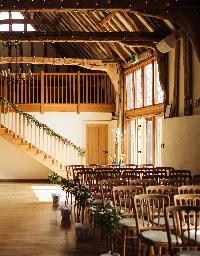 Whimsical weddings
Q. How can we style our country barn wedding to include on-trend details and plenty of wow factor?
A. Alan Sabol says: Here at Bruisyard Hall the weddings team has noticed a number of emerging trends including a definite move towards a more minimalist and natural look. In terms of décor in particular, light pastel shades, natural light and stripped-back settings are increasingly popular. Light blush tones and violet colour schemes, combined with attention-grabbing crystal glassware and copper are big news too. While 2017's metal of the moment was undeniably rose gold, we've seen a move towards lustrous copper for candle holders, name places and cutlery. It adds a warm, elegant look, gently reflecting candlelight and creating the perfect relaxed feel for an autumnal evening wedding reception. Other key styles and themes include:

- Perfectly simple The move towards simpler, often more budget-friendly themes has filtered through to the catering with a shift from the traditional multi-course wedding breakfast to more quirky and relaxed options such as large sharing platters of food, beautifully arranged and decorated. Dessert tables are also big, with macarons and doughnuts remaining popular and mini wedding trifles stealing their share of the limelight too.

- Woodland chic Flower arrangements are also tending to be simpler and more natural often featuring small budded and often foliage-based displays. Following the popular whimsical wedding trend, many couples are opting for miniature woodland displays for a free-spirited, natural feel, including long, low-level tablescapes with bell jars, delicate flowers in soft dusky shades and leafy garlands. The same foliage theme can provide an ethereal look used in hanging hoops above the tables. Loose, natural-looking bouquets with plenty of greenery to complement the venue decor are also popular.
Alan Sabol
www.bruisyardhall.com