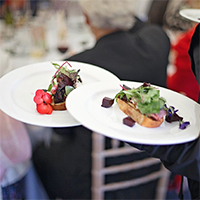 Summer taste sensations
Q. We want to celebrate the season throughout our big day. What would you suggest for the catering, that's new and exciting for summer weddings?
A. Peter McAleese says: This year we're seeing a continued shift from the classic three-course wedding breakfast towards more informal catering styles such as sharing platters and food stations with live-action chefs. Food trucks for evening snacks are always a huge hit, creating a more interactive and sociable experience for guests in a relaxed and original way.

Not only are couples looking for less traditional and more social styles of dining, they're also keen to incorporate more international styles and cuisines such as 'en vogue' tacos, oysters, ceviche and sushi.

It's no surprise that beautiful food and dessert stations are still hot – I love the look of these amazing feasts that take your puds to the next level. Mini drinks stations remain popular with gin, rum and whisky bars to tantalise the taste buds!

Rustic weddings are also back with a bang, serving food on wooden and industrial-style platters, as well as build-your-own desserts, for example a beautiful cheesecake served with lots of toppers and dry ice to add theatre and drama.
Peter McAleese
www.bandrdining.co.uk