Ask the experts
Here is a selection of Q&As from Your East Anglian Wedding magazine. If you would like your question answered by our experts, please email it to editor@youreastanglian.wedding.
To view more Q&A's on a different topic, please select one from the list below.
Hot topic: Beside the seaside
Local experts on coastal-themed nuptials
---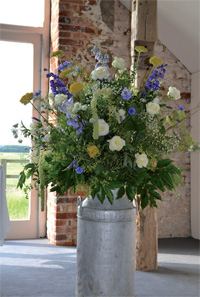 Flower power
Q. We're keeping our fingers crossed for hot, sunny weather for our seaside wedding. What flowers would you suggest for my bouquet and to decorate our marquee reception?
A. Sharon Pointon says: This type of wedding provides the perfect opportunity to use lots of wonderful textures. Here are two key looks that immediately spring to mind:
Vibrant shades of coral and blue pebble tones can really set the mood and look great combined with twigs weathered by the wind and sea. Small details such as stones add extra interest to an arrangement, especially if they're collected from a place or trip that's special to you. For the bouquet, eryngium, statice, succulents, Miss Piggy coral roses and twigs work well.

Decorate the marquee using different textures like driftwood, rusty metal, bottles, wooden frames, smooth metallics and rope. Fill containers such as churns, buckets, urns or lobster pots with protea, samphire and sea lavender, surrounded by little pots of succulents to produce a seascape for the tables.


For a more muted, casual look, grasses are very on trend at the moment and can easily reflect a seaside theme using bear grass, palms, brunia and china grass.
---

Barefoot and beautiful
Q. We're getting married on the Suffolk coast and want to take time out post-vows to pose for some romantic photos on the beach. When's the best time to do this?
A. Anna Zofka says: Depending on the time of year, it's usually best to schedule your wedding portraits for late afternoon. Not only will the sunlight be softer, but the beach is less likely to be busy. Shooting in direct sun (from 11am to 5pm in the summer months) can result in very bright photos and squinting. Usually one hour before sunset is perfect. The bride and groom portraits require patience, but 30 minutes should be sufficient to get a good range of shots. Just remember to take into account the time required to get from the venue to the beach and back.

Depending on your schedule and the season, it may be better to have the session after the wedding breakfast. Even on a sunny day, it can be very windy by the sea, so remember to take an extra layer to wear between photos and be prepared to have to fix your hair afterwards! If there's not enough time on the big day for photos on the beach, or you're worried about leaving your guests too long, you could consider having an engagement or a post-wedding shoot instead.
---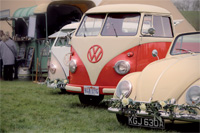 Travel in style
Q. We're getting married by the sea and I'd love to make my arrival in a cool VW Campervan but I'm not sure if there'd be room for me and my five bridesmaids. What would you advise?
A. Zoe Wells says: A Campervan is the ideal choice for a coastal wedding and should provide plenty of room for all of your bridesmaids. One of the reasons the split screen became so popular with Californian surfers in the '60s was because it provided space for the whole gang and their equipment. Today they're still synonymous with beach culture. If you're really worried about extra seating though, go for a deluxe style, like a split screen, rather than a standard model, as these are top-of-the-line, and were originally designed for passenger use. They also have more windows and extras like safaris (pop out front windows) and chrome trim. You could also double up with another vintage vehicle like our Californian VW cabriolet beetle. Hire companies will often offer a discount for joint bookings and a convoy is so much more fun!
---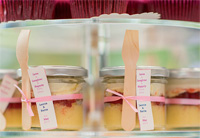 Great cake creations
Q. What style of wedding cake would you suggest for our beachthemed wedding?
A. Emma Thorburn says: This kind of wedding is so much fun! We've created a few cakes for couples in the past six years ranging from miniature bride, groom and baby in a boat to cupcakes with doubloons for a children's table at a wedding where dressing up was a must. If a more traditional look is your thing then tiered cakes look very elegant and for a beach wedding a sandcastle design would make a fabulous centrepiece! If sand, heat or moisture are likely to be a problem, we have a clever way of baking cupcakes in jars, complete with little birchwood spoons, tied with a colour-matched ribbon. Or for an all-out 'alternative' look how about a gingerbread lighthouse? We won Kirstie Allsopp's Channel 4 Gingerbread Champion 2015 with this showstopper.
---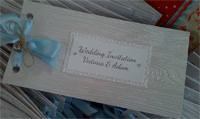 Seaside teaser
Q. We're planning a beach-themed wedding and I want to set the tone from the get-go. What type of design would you suggest for the invitations?
A. Jane D'Arcy says: Having such an amazing coastline and the broads in our region often inspires couples to choose a seaside or nautical theme for their wedding. The invitations will probably be the first glimpse your guests will have of your wedding day and a quality design will set the tone and give them a sneaky peek of what's to come. You can really go to town with colours and textures to evoke a seaside feel using different kinds of card and printed paper, driftwood-effect embossing, motifs and embellishments such as anchors, shells, rope knots, seaside bunting and more. A palette of typical coastal colours such as white, grey, blue, ivory and sandy hues, all combine to make a lovely first impression. Use the same materials throughout your stationery from the save-the-dates through to on-the-day items to give your celebration a seamless feel.
---
Contact our experts...

Anna Zofka
Photographer

Emma Thorburn
Baker

Jane D'Arcy
Stationery designer

Sharon Pointon
Florist

Zoe Wells
Transport provider
---