Ask the experts
Here is a selection of Q&As from Your East Anglian Wedding magazine. If you would like your question answered by our experts, please email it to editor@youreastanglian.wedding.
To view more Q&A's on a different topic, please select one from the list below.
Hot topic: Autumnal weddings
Local experts on seasonal big-day celebrations
---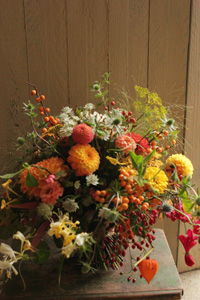 Nature's bounty
Q. I love flowers and want my wedding to be filled with beautiful blooms. We're getting married in the autumn though and I'm worried there won't be the range and variety available to create the wow factor.
A. Sarah says: Autumn is a fantastic time of year for rich colour, texture and shapes, such as glossy red rosehips and intricate seedpods for close-up detail. There's plenty of amazing foliage to work with including oak leaves, grasses and twigs like contorted hazel and twisted willow, which are great for adding structure and interest to your displays. Fruits are in abundance too; figs, rubus and miniature apples for creating fabulous tablescapes with flowers and foliage tumbling from copper and brass bowls.

The season doesn't have to mean a predictable colour palette of orange, brown and red shades either. Experiment with dark red tones, offset with palest pink hues and shots of coral. You can also make use of the wealth of seasonal flowers that are available, such as dahlias in various shapes and colours, zinnias and hydrangeas.
---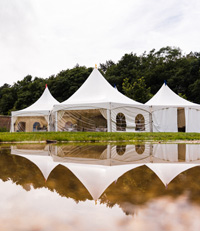 Set the tone
Q. We love the idea of a marquee for our wedding but will it be suitable for late October? What if the weather's bad, how would we create a warm and inviting feel?
A. Robert Morton says: Although marquees are traditionally considered more for summer nuptials, with autumn weddings becoming increasingly popular, there are many ways to adapt them to suit the season.

We always recommend including at least one heater in your marquee package for dates from September onwards.You can always rely on the Great British weather for an autumnal chill and a single heater can create a warm, cosy atmosphere.

Marquees provide a blank canvas for any colour scheme and muted, rich red and burgundy hues will make the space feel snug and help create the vibe you're after. Incorporating different textures and patterns, such as tweed and checks, will add interest and an extra dimension to your big-day style.

Finally, it's the little extras that will really enhance the autumn theme. Rustic décor such as leaves, pine cone place settings and wooden signs can instantly transform the space. By bringing the outside in you can create an enchanting autumn woodland feel, perfect for a hearty, wholesome wedding breakfast with plenty of warm, mulled wine!
---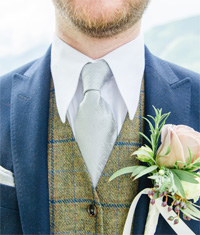 Country gent
Q. My fiancé spends most of his time in jeans and a T-shirt and hasn't a clue what to wear for our rustic-themed autumn wedding. He wants to feel comfortable and relaxed but smart enough for the formal wedding photos – can you help?
A. James Rudd says: With the popularity of country weddings and people wanting to get more wear out of their outfit beyond the big day, we've seen a huge push towards tweed and casual elements mixed into the groom and groomsmen's attire. Full tweed three-piece suits, as well as tweed jackets with chinos or trousers, both work well. Personally, I think a navy blue suit with a tweed waistcoat gives the perfect balance between traditional and country and it's been our most popular look for this season. We made the suit (pictured) for the wedding of a couple who work at Vanners, the Silk Mill in Sudbury that produces our ties. The groom will be able to wear it again and the tweed waistcoat adds a country edge. You can't go wrong with a white shirt (it always looks great in the photos) and tan brogues finish the outfit off perfectly. Countrystyle wedding attire is usually comfortable and easy to wear and looks great with autumnal hues. You don't need to be afraid of muted green and brown shades either, as splashes of colour can always be added with ties and accessories.
---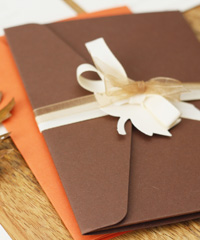 The write stuff
Q. We want to set the tone for our autumn wedding throughout the stationery in order to tie the whole look together. Any suggestions?
A. Lorna Kitt says: Keep it simple and don't go overboard with the imagery and colours as too many red, orange and brown hues can be overpowering. Our autumnal-themed invites (pictured) are hand-painted in soft watercolours to give the leaves depth and most importantly warmth. This is one of the big attractions of an autumnal wedding – to reflect that romantic feel of cosy nights in by the fire.

Following the theme throughout your stationery is key, so keep to the same colour palette from your wedding invitations down to the table plan, table names, place settings and even the wedding signage. We personally love the autumnal leaf theme as you can do so much with it; ideal for table confetti, centrepieces or even a light-up wishing tree with cut out leaves as an alternative to the traditional guest book.
---
Stress-free celebration
Q. We're planning to have an autumn barn wedding with lots of seasonal touches and, weather permitting, hope to be able to spend time outside. There'll be things going on throughout the day and we're worried about keeping on schedule. We want the atmosphere to be relaxed and informal but at the same time need to keep everything running to time. What would you advise?
A. Mike Wabe says: A barn is a beautiful location for a wedding but the autumn weather can be unpredictable, so you may not be able to count on spending too much time outdoors. However, outside or in, it's vital that your carefully organised day runs to plan and that everyone is in the right place at the right time. For that to happen, you can't beat handing it over to a professional toastmaster. While they may look very formal in their distinctive livery, that doesn't mean that they're inflexible. It's your wedding and the toastmaster is there to carry out your wishes, so make sure you tell them before the big day that you want a relaxed and informal atmosphere. The toastmaster provides the focal point for all your guests if they have any questions, to ensure that your day runs smoothly and to deal with any issues that arise, so you and your guests can have a thoroughly enjoyable and stress-free day.
---
Contact our experts...

James Rudd
Manager

Lorna Kitt
Stationery designer

Mike Wabe
Toastmaster

Robert Morton
Managing director

Sarah
Florist
---