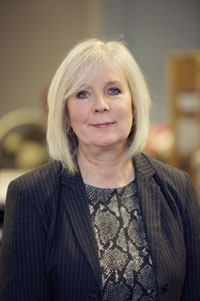 Get to know Sarah Reeve, editor of Your East Anglian Wedding, with these top 10 questions.
What do you love most about working on Your East Anglian Wedding?
Being amazed by the constantly evolving world of weddings, keeping our finger on the pulse and looking forward to raising the curtain on the next big thing!
Describe the style of a Your East Anglian Wedding bride?
We aim to reflect the region's diversity from the coast to the countryside, market town to city centre and the wealth of local talent on the doorstep. You don't have to go far to discover a wedding gem, whether it's a fabulous venue, go-to bridal boutique or wow-factor supplier, and we like to shout about it.
What's your favourite feature to write for Your East Anglian Wedding?
I love, love, love all the fabulous real weddings. I never tire of hearing from the region's newlyweds and hearing all about their big days. No two are ever exactly the same and sharing all the personal touches and special details with our readers is always a joy.
If you were to get remarried what type of wedding would you have?
It would be an intimate affair with all my closest family and friends, delicious food, great wine, music and mad dancing with my three lovely daughters to all our favourite Mumford & Sons tracks.
Who would be your number one wedding guest and why?
Marcus Mumford of course! I'd be extra cheeky and ask him to sing for his supper as live music always goes down a storm at a wedding.
What are the five words that best describe you?
Cake-eating, gin lover and Sunday roast supremo - probably more than five words, but who's counting!
When did you last go to the cinema, what did you see?
I went to an outdoor showing of Bridesmaids recently armed with a picnic hamper, fizz and nibbles. Even though I'd seen the film umpteen times it was great to laugh out loud with abandon.
What three items could you not live without?
Chocolate, a notebook (if it's not written down, it's forgotten!) and my car – I hate driving, but it's the price of living in a rural village with no public transport!
Favourite food?
A Sunday roast surrounded by my family with an open fire to snuggle around afterwards and a willing volunteer to do the washing up.
Where are you happiest?
At home in the country or by the sea – there's something very therapeutic about the sound of breaking waves.
Contact me
I'd love to hear all about your plans for your big day, or whether you'd recommend your wedding suppliers. Alternatively, let me know about any budget-saving tips you feel may benefit other readers. Email me at editor@youreastanglian.wedding.