Two Fabulous Giveaways
We have some terrific prizes up for grabs...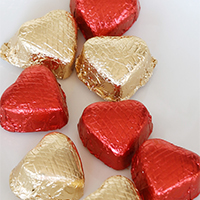 Tasty treats
Lily O'Brien's is the brainchild of Mary Ann O'Brien who took her passion for chocolate on a journey of discovery, honing her chocolate-making skills among world-class chefs and chocolatiers in both South Africa and Europe before starting her own mini enterprise from her Co. Kildare kitchen in 1992. Lily O'Brien's soon established itself as Ireland's best-loved chocolatiers. With Mary Ann still at the heart of the business, the passion that first inspired her chocolate honeycomb hedgehogs is still present in every aspect of the business and family values remain at its very core.

Check out www.lilyobriens.co.uk

Lily O'Brien's has teamed up with County Wedding Magazines to offer one lucky reader the chance to win 200 of its heart-shaped chocolate wedding favours.

*Terms and conditions apply.
For your chance to win, tick the box marked 'Tasty treats' on the giveaway form.
Closing date: Friday, 30 November 2018.
Click here to view the Terms and Conditions
Competitions are not open to employees (or their immediate families) of KD Media Publishing Ltd.
The competition closing date is subject to change without prior notice.
The winner(s) will be notified in writing.
The editor's decision is final and no correspondence will be entered into.
The prize is not transferable and has no monetary value.
If an advertised prize is not available, we reserve the right to offer an alternative prize of equal or greater value.
No purchase necessary to enter and there is no charge to enter via the website.
Prize must be claimed within 3 months of the closing date.
Prize must be taken within 18 months of the closing date.
By entering you agree to your details being shared with the prize provider for their own marketing purposes only, not to be disclosed to a third party.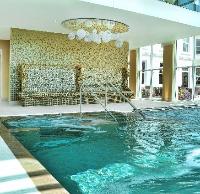 Twilight spa package
Take time out from the wedding planning and zen out at The Spa at Bedford Lodge Hotel, Newmarket (www.bedfordlodgehotelspa.co.uk). Elegant and stylish, it's a haven of wellbeing and relaxation, offering a wealth of beauty benefits for newlyweds-to-be and a wide range of indoor and outdoor spa facilities. With a hydrotherapy pool boasting five different water experiences, a state-of-the-art thermal area with a steam room and sauna, a roof-top hot tub, relaxation room and more; it's the perfect spot for pre- or post-wedding pampering. The Spa also has 10 spacious treatment rooms and a lounge where you can chill out and enjoy a light bite.

Sounds like heaven? Then don't miss your chance to win a gift voucher for an indulgent Twilight Spa package for two, worth £164. Relax under the stars while enjoying use of the heat and hydro facilities and a choice of either a Relax and Revive Massage or an ESPA facial, with a glass of bubbly to top it all off.
For your chance to win, tick the box marked 'Twilight spa package' on the giveaway form.
Closing date: Friday, 30 November 2018.
Click here to view the Terms and Conditions
Competitions are not open to employees (or their immediate families) of KD Media Publishing Ltd.
The competition closing date is subject to change without prior notice.
The winner(s) will be notified in writing.
The editor's decision is final and no correspondence will be entered into.
The prize is not transferable and has no monetary value.
If an advertised prize is not available, we reserve the right to offer an alternative prize of equal or greater value.
No purchase necessary to enter and there is no charge to enter via the website.
Prize must be claimed within 3 months of the closing date.
Prize must be taken within 18 months of the closing date.
By entering you agree to your details being shared with the prize provider for their own marketing purposes only, not to be disclosed to a third party.
Available to book and take 6 months from notice of winning
Subject to availability