Why you should buy issue 33 of Your East Anglian Wedding magazine...
October/November 2018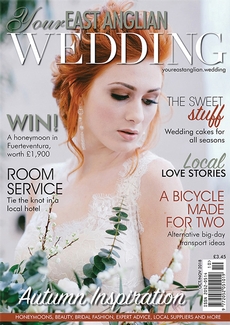 Fuerteventura competition
Win a romantic honeymoon in Fuerteventura, worth £1,900
Whimsical woodland wedding
Vicky and Andrew's big day was the first to be held at a magical new outdoor venue in Thetford Forest
Animal magic
Jenna and Nathan's Suffolk wedding included a special appearance by some feathered friends
Retro romance
Vintage touches added extra charm to Hannah and Paul's romantic winter wedding
Room service
Tie the knot in one of the region's stylish hotels
Spotlight on... Ipswich & South Suffolk
Where to wed in and around this county town
The sweet stuff
Wedding cakes for all seasons
A bicycle made for two
Alternative wedding transport ideas
Ocean blue
Take inspiration from the beautiful Norfolk coast for your big-day styling
Industrial chic
A disused Norwich factory provided the ideal backdrop for this cool photo shoot
Fabulous fishtails
This favourite style never goes out of fashion
Lip service
Pucker up with these products
eMagazine
Available to download NOW for only £1.49
Printed Copy
(inc. free eMagazine)
In Stock
Click here to use our online ordering service
---
Buy a copy
There are 5 different ways to buy Your East Anglian Wedding magazine.
Click here to view some sample pages from an eMagazine
To order the latest copy of Your East Anglian Wedding magazine or to obtain back issues, click here.
Alternatively call us to order your copy, post-free for just £3.45, on 01376 514000
Read Your East Anglian Wedding magazine in electronic format for just £1.49 per copy (Smartphone and Tablet compatible) click here
You can subscribe for just £17.60!
Annual subscription (6 issues)
Save over 15% off the normal cover price
FREE postage and packing
Receive each issue as soon as it is published
To order your subscription, simply call us on 01376 514000 or click here
Alternatively, click here to order an eSubscription for just £7.60
4. Buy a copy from a retail outlet
Your East Anglian Wedding magazine is available from newsagents and supermarkets.
However, if you do have problems, or if your newsagents has sold out, then call us!
We'll send your copy to you post-free for just £3.45 inc P&P. Simply call us on 01376 514000
5. Overseas Orders
For non-UK customers, please email admin@county.wedding for full details.
---