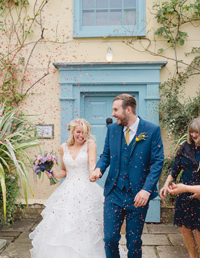 Green days
Q. We want our wedding to be a relaxed, informal celebration and would like to make it as eco-friendly as possible. What kind of choices can we make that will reduce the carbon footprint of our day while still creating plenty of wow factor?
A. Jane Price says: Planning a green wedding can be simpler than you might think. The venue is usually one of the first decisions a couple will make, so check out what steps yours is taking to reduce their carbon footprint. In particular talk to them about the food. The increasingly popular and ethical farm-to-table ethos advocates homegrown, organic, seasonal produce and you'll be surprised to know how accessible it can be. At South Farm we have our own organic smallholding and grow around 250 different varieties of fruit, vegetables and herbs, we have free-range chickens that provide 90 per cent of the eggs used in our kitchens and 40 to 60 per cent of the pork we use is home-reared. This all means zero food miles, less packaging and lower refrigeration time – all contributing significantly to reducing the carbon footprint. In addition, menus are adapted seasonally to reflect what's growing on the farm.

If your venue doesn't cater in-house or grow their own food ask the caterer where they source their produce and make sure they're offering you choices that are local and in season for the freshest and greenest ingredients. Other ways you can make an impact on your day include:

- Hold your ceremony and reception all in one place to reduce the need for transport.

- Get married outside so your guests are warmed by the sun and your ceremony's lit by beautiful natural light. Make sure there's a choice of indoor spaces though, just in case the weather's bad.

- Opt for biodegradable confetti. Many churches and venues now insist on this so make sure your guests know to only use the good stuff. At South Farm we supply dried rose petals for all our couples so there 's no need for people to bring their own.

- Consider potted succulents, saplings or packs of biodegradable seeds as favours. Your guests will love the idea and nurturing their own plants from your wedding day makes it a really special token, not to mention an enduring reminder of your day. Another green option is a charitable donation made on behalf of each of your loved ones which really is the gift that keeps on giving!

- Look for a florist that uses organically grown flowers without the use of pesticides and chemicals and ask them to create floral arrangements using only seasonal, local blooms. That way they'll look fresh and pretty but will have had less storage, refrigeration and transportation time.

- Save trees by using paperless save-the-dates and wedding invitations or set up a wedding website with online invitations and all the details of your day. If you prefer the idea of traditional printed stationery then look for suppliers that use recyclable paper that way you can have beautiful invites and feel really good about them.