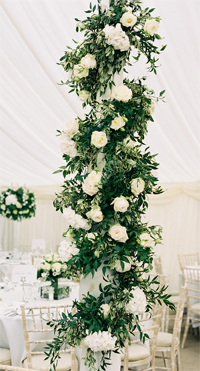 The complete package
Q. I've dreamed of a fairytale wedding for years and want all the romance and magic of our day to shine out in the styling, colour palette and theme. Any ideas?
A. Karen Mhende says: Romance is a sensory experience, so in order for your big day to tick all the boxes, you need to think about how your wedding smells and feels as well as how things look, taste and sound. You really can achieve a magical effect, no matter the budget, if you keep this in mind.

Ceiling drapes in textured yet delicate fabrics, such as chiffon, organza, or less costly nylon tulle, is an easy way to add the feminine touch to a venue. With that in mind, fabrics should be in neutral tones like ivory, white, or grey to create a relaxing, tranquil vibe without the interruption of single pops of colour. If you want primary or individual shades, choosing a pastel palette can maintain the mood.

Everyone knows that flowers are the way to a woman's heart, and teaming big full blooms with dim candlelight, or structural flowering branches wrapped with delicate stringlights provides an ethereal touch to a floral theme. Scented candles add another sensory element and will evoke fond memories every time you smell the fragrance. If your venue doesn't allow candles, having a signature wedding perfume will give a similar heady romantic effect.