Ask the experts
Here is a selection of Q&As from Your East Anglian Wedding magazine. If you would like your question answered by our experts, please email it to editor@youreastanglian.wedding.
To view more Q&A's on a different topic, please select one from the list below.
Hot topic: All in the detail
Local experts answer your big-day queries
---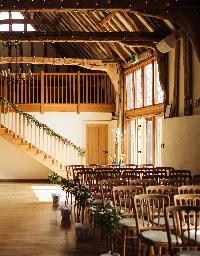 Whimsical weddings
Q. How can we style our country barn wedding to include on-trend details and plenty of wow factor?
A. Alan Sabol says: Here at Bruisyard Hall the weddings team has noticed a number of emerging trends including a definite move towards a more minimalist and natural look. In terms of décor in particular, light pastel shades, natural light and stripped-back settings are increasingly popular. Light blush tones and violet colour schemes, combined with attention-grabbing crystal glassware and copper are big news too. While 2017's metal of the moment was undeniably rose gold, we've seen a move towards lustrous copper for candle holders, name places and cutlery. It adds a warm, elegant look, gently reflecting candlelight and creating the perfect relaxed feel for an autumnal evening wedding reception. Other key styles and themes include:

- Perfectly simple The move towards simpler, often more budget-friendly themes has filtered through to the catering with a shift from the traditional multi-course wedding breakfast to more quirky and relaxed options such as large sharing platters of food, beautifully arranged and decorated. Dessert tables are also big, with macarons and doughnuts remaining popular and mini wedding trifles stealing their share of the limelight too.

- Woodland chic Flower arrangements are also tending to be simpler and more natural often featuring small budded and often foliage-based displays. Following the popular whimsical wedding trend, many couples are opting for miniature woodland displays for a free-spirited, natural feel, including long, low-level tablescapes with bell jars, delicate flowers in soft dusky shades and leafy garlands. The same foliage theme can provide an ethereal look used in hanging hoops above the tables. Loose, natural-looking bouquets with plenty of greenery to complement the venue decor are also popular.
---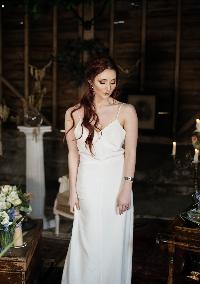 Ethical chic
Q. We're planning to make our wedding as green as possible and want to make eco-friendly and ethical choices where we can. How can I reflect this is my choice of wedding dress?
A. Clare Szabo says: Making sure your wedding dress is ethical and eco-friendly is a lot easier than you might think. First and foremost, buying a second-hand or vintage creation is a great way to give a pre-loved item a new lease of life; not only great as your something old, but a way of avoiding some of the negative environmental impact of fast fashion. By using a good seamstress, you can have it altered to fit or upcycled to create something special to you.

Choosing to have a design custom-made by a professional dressmaker can also give you more freedom over things like the choice of fabrics and where and how they've been sourced. It's also now possible to find bridal companies and dressmakers that specialise in ethical wedding dresses offering beautiful bridal designs in silk and satin, as well as high-quality cotton that have been produced sustainably and ethically without harm to the environment or the people that make them. At River Elliot Bridal, I offer options within my range for brides specifically looking for eco-friendly fabrics such as the Elliot slip dress (pictured) which has been made using cruelty-free ethical silk crepe de chine.
---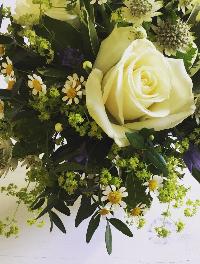 Flower power
Q. We've just started planning our summer wedding for next year. We're going for a country-garden theme full of natural elements and plenty of flowers. We've no idea where to start though. Can you help?
A. Katie Booty says: The perfect starting point would be a visit to your wedding venue around the time you're planning to marry next year. Explore the gardens and see what's in bloom and think about bringing the outdoors in when choosing what flowers to use.

Repurposed containers fit wonderfully with the country-garden look, think buckets, milk churns, troughs and crates filled with flowers. Texture and informality are key to nailing this look, so keep arrangements natural and loosely structured.

Pick seasonal blooms, your florist should be able to suggest varieties that will be at their best around the time of your big day. Your colour palette will also be a deciding factor. Neutral and pastel shades are ideal for your theme, such as roses, scabious, feverfew, stocks or freesias. Although if you're looking for something bolder, beautiful blue delphiniums and purple hydrangeas will create a striking display. Scent can also be very evocative. As emotions can run high on the big day some calming lavender added to the buttonholes or sweetly perfumed sweet peas in your bouquet could be just the ticket.
---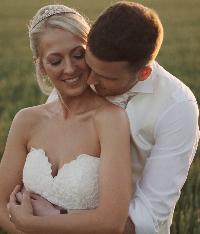 Lasting memories
Q. We're on a fairly tight budget and we're not sure we can stretch to having a videographer as well as a photographer to cover our big day. We'd love to capture all the special moments on film though and just can't decide. What would you advise?
A. Mike Savory says: For me, it's all about working out what's of value to you once your wedding day is over. It's important to find yourself a good photographer, as there are things that work as stills but not in motion, however a good wedding videographer can bring all of your memories to life. Your day will fly past and having a film to look back on can allow you to relive all those perfect moments that you want to remember and some that you never even saw on the day!

As one of my brides once put it, a wedding film can give you memories that last forever. Sparklers fizzle out, sweets are eaten, favours are often not kept, but a video is viewed time and time again and can be watched and enjoyed by many.
---
Contact our experts...
Alan Sabol
General manager
Mike Savory
Wedding videographer
---