Ask the experts
Here is a selection of Q&As from Your East Anglian Wedding magazine. If you would like your question answered by our experts, please email it to editor@youreastanglian.wedding.
To view more Q&A's on a different topic, please select one from the list below.
Hot topic: Summer loving
Local experts on chilled festival-style weddings
---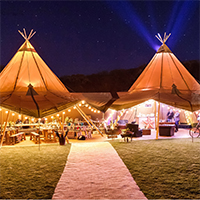 Under canvas
Q. We hope to spend as much time as possible outdoors on our wedding day, but also need to make sure the tipis we're having provide a warm and inviting space for our guests. What tips can you give us for the styling, dressing and lighting?
A. Matt Mazurek says: When we first bought our tipis we knew we wanted to give them a really rustic warm inviting feel and off-the-peg furniture just didn't fit the bill. We found a great local carpentry company who handmade all of our tables and benches out of reclaimed wood and scaffold boards, The bars are made from the same materials, complemented by vintage Chesterfield sofas and winged-back armchairs, with recycled wooden ammo boxes as tables to complete the look.

Tipis look amazing even before they're decorated because of all the natural wood inside. They really do lend themselves to a rustic, relaxed festival-style wedding and look amazing with bold bright colours or greenery. The main thing to remember is that you don't need a big budget to dress the space; you can do as much or as little as you like and they'll still have the wow factor.

White fairylights wrapped around the interior poles look amazing and give off a warm glow without it looking too bright. Festoon lights along the brim of the tipis and walkways add to the festival vibe and look stunning at night. Coloured LED uplighters are ideal for the dance area and really add to the atmosphere as they can change shade to the beat of the music.
---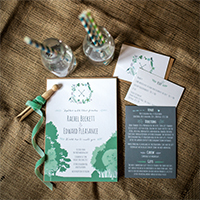 You're invited
Q. We're in the process of planning our festival-style wedding for early next summer. We'd like to send out save-the-dates to give a taste of what's to come and want to tie the look into the rest of the wedding stationery. Any ideas?
A. Gemma Titmarsh says: I'm loving festival weddings at the moment! They have the perfect relaxed, romantic celebratory vibe and save-the-dates are a great way to start the exciting build up to your day. Make sure your stationery is in keeping with the style of your wedding; such as my Festival collection (pictured) to set the scene. Personalise the design elements by including a tipi/sailcloth tent, bunting, woodland or wild native animals – depending on your big-day location and choices. You could also opt for some rustic finishing touches to complement the look, like recycled brown kraft envelopes. If your ceremony is outdoors why not use this as your inspiration too? Include birds, flora and fauna as part of a crest, as featured on the matching Festival invitation suite. I always think it's a good idea to keep a few surprises up your sleeves and save some other design elements for the invitations and on-the-day stationery, after all you don't want to give away too much too soon!
---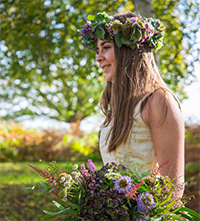 Blooming beautiful
Q. We're having a boho style wedding and I want to complement the look with flowers in my hair. What will look great, that's easy to wear and will last throughout the day?
A. Verity Marston says: A full crown made with big blousy blooms like garden roses, hydrangeas and touches of foliage gives a wonderful effect and good quality, well-conditioned flowers should hold up perfectly for your day. If you're a little overwhelmed by the idea of a full crown, then a half band worn at the back of the head is stunning too. It's really important that you feel comfortable and secure on the day so clips, combs and ribbons can all be used with fresh blooms wired or glued on. Incorporate texture to complement your wedding theme; wax flowers, berries, eryngium and nigella are perfect for a natural look. You could also just have lush fresh foliage such as eucalyptus, leather leaf and maybe a sprig or two of a sweetly scented rosemary or bay for a foresty vibe. For the lightest of touches, individual flowers can be wired ready for your hairdresser to pop into your hairstyle – great for your bridesmaids too.
---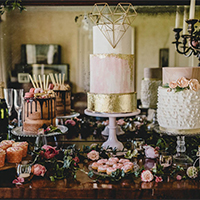 Let them eat cake
Q. We're both massive cake lovers and want to lay on a help-yourself dessert table full of sweet treats for our festival-style wedding. What should we choose?
A. Imogen Davison says: At the planning stage you need to think about providing a range of tasty treats in varying portion sizes from small bites to larger dessert items.

- Start with a delicious showstopping cake, ideally a minimum of two tiers to provide height and visual interest to your display.

- Combine tea-time classics such as a stack of rich brownies or simple buttery shortbread hearts with mini flavoured cupcakes or decorated cookies.

- Delicate macarons, marshmallows and meringue kisses in pretty colours are a definite must-have.

- If you have vegan guests or anyone with food allergies, a dessert table allows you to easily cater for their needs without having to dedicate a whole tier of your wedding cake.

- You could opt for a whole wall of doughnuts in a variety of flavours or go for stacks of bite-sized decorated ones.

- Personalised cookies can double up as wedding favours.
---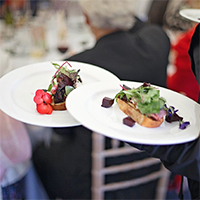 Summer taste sensations
Q. We want to celebrate the season throughout our big day. What would you suggest for the catering, that's new and exciting for summer weddings?
A. Peter McAleese says: This year we're seeing a continued shift from the classic three-course wedding breakfast towards more informal catering styles such as sharing platters and food stations with live-action chefs. Food trucks for evening snacks are always a huge hit, creating a more interactive and sociable experience for guests in a relaxed and original way.

Not only are couples looking for less traditional and more social styles of dining, they're also keen to incorporate more international styles and cuisines such as 'en vogue' tacos, oysters, ceviche and sushi.

It's no surprise that beautiful food and dessert stations are still hot – I love the look of these amazing feasts that take your puds to the next level. Mini drinks stations remain popular with gin, rum and whisky bars to tantalise the taste buds!

Rustic weddings are also back with a bang, serving food on wooden and industrial-style platters, as well as build-your-own desserts, for example a beautiful cheesecake served with lots of toppers and dry ice to add theatre and drama.
---
Contact our experts...
Gemma Titmarsh
Stationery designer
Matt Mazurek
tipi supplier
Peter McAleese
Chef and director
---