Ask the experts
Here is a selection of Q&As from Your East Anglian Wedding magazine. If you would like your question answered by our experts, please email it to editor@youreastanglian.wedding.
To view more Q&A's on a different topic, please select one from the list below.
Hot topic: Eco-friendly weddings
Local experts on making choices for a greener big day
---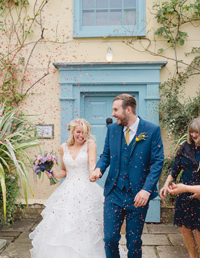 Green days
Q. We want our wedding to be a relaxed, informal celebration and would like to make it as eco-friendly as possible. What kind of choices can we make that will reduce the carbon footprint of our day while still creating plenty of wow factor?
A. Jane Price says: Planning a green wedding can be simpler than you might think. The venue is usually one of the first decisions a couple will make, so check out what steps yours is taking to reduce their carbon footprint. In particular talk to them about the food. The increasingly popular and ethical farm-to-table ethos advocates homegrown, organic, seasonal produce and you'll be surprised to know how accessible it can be. At South Farm we have our own organic smallholding and grow around 250 different varieties of fruit, vegetables and herbs, we have free-range chickens that provide 90 per cent of the eggs used in our kitchens and 40 to 60 per cent of the pork we use is home-reared. This all means zero food miles, less packaging and lower refrigeration time – all contributing significantly to reducing the carbon footprint. In addition, menus are adapted seasonally to reflect what's growing on the farm.

If your venue doesn't cater in-house or grow their own food ask the caterer where they source their produce and make sure they're offering you choices that are local and in season for the freshest and greenest ingredients. Other ways you can make an impact on your day include:

- Hold your ceremony and reception all in one place to reduce the need for transport.

- Get married outside so your guests are warmed by the sun and your ceremony's lit by beautiful natural light. Make sure there's a choice of indoor spaces though, just in case the weather's bad.

- Opt for biodegradable confetti. Many churches and venues now insist on this so make sure your guests know to only use the good stuff. At South Farm we supply dried rose petals for all our couples so there 's no need for people to bring their own.

- Consider potted succulents, saplings or packs of biodegradable seeds as favours. Your guests will love the idea and nurturing their own plants from your wedding day makes it a really special token, not to mention an enduring reminder of your day. Another green option is a charitable donation made on behalf of each of your loved ones which really is the gift that keeps on giving!

- Look for a florist that uses organically grown flowers without the use of pesticides and chemicals and ask them to create floral arrangements using only seasonal, local blooms. That way they'll look fresh and pretty but will have had less storage, refrigeration and transportation time.

- Save trees by using paperless save-the-dates and wedding invitations or set up a wedding website with online invitations and all the details of your day. If you prefer the idea of traditional printed stationery then look for suppliers that use recyclable paper that way you can have beautiful invites and feel really good about them.
---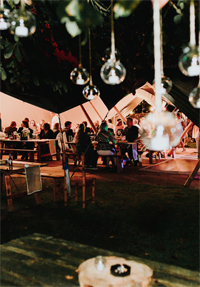 Under canvas
Q. My partner and I are both nature lovers and environmentalists and we're keen to reflect that on our big day. We want a venue that shares our passion for sustainability that we can really put our own stamp on – what would you suggest?
A. Jenna Ackerley says: If you haven't already thought about tipis, they really are the ideal choice for environmentally conscious couples. At Events Under Canvas we're particularly hot on the issue of sustainability and it's at the heart of everything we do, right down to the wood used to make the tentipi poles. These type of structures are not only striking in their simplicity, they naturally bring the outside in - you can even forgo the flooring and feel the grass beneath your feet if you wish!

When it comes to decorating, less is definitely more with a tipi and it doesn't take much to create a really magical space. LED lighting will reduce your power consumption (there are some beautiful options available), use rustic up-cycled furniture or hay bales for seating, and choosing acoustic entertainment will minimise the environmental impact even further.
---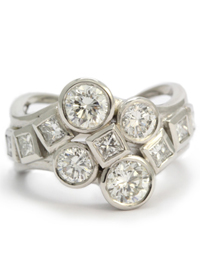 With this ring
Q. We're newly engaged and about to embark on planning our big day. We want to make sustainable and ethical choices where we can. Is this possible with the jewellery?
A. Sara Sweet says: When it comes to Fairtrade jewellery, there are many ways to be an ethical buyer, regardless of whether you're choosing a new and ready-made item; commissioning a bespoke design or sourcing antique or second-hand pieces – the options are as varied as the experience.

For new items, Fairtrade gold is available at certain jewellers for some of their products. It may not always be advertised, so make sure to ask. Using a local independent goldsmith is likely to get more positive results as they're producing on a smaller scale and can put the time and effort into sourcing materials and providing more options. Using your local jeweller also reduces your carbon footprint, helps support your community and our skilled British artisans!

If you're lucky enough to have heirloom pieces or forgotten jewellery you're no longer wearing, they can be melted down, redesigned and made into something new. Reclaimed materials are not only cost-effective and better for the environment but also far more personal and sentimental. Never be afraid to ask questions, so you know where you products are sourced, produced and packaged.
---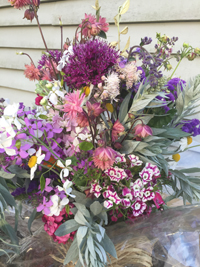 Inspired by nature
Q. We want our big day to be as low on air miles as possible. How can we do this with the wedding flowers without reducing the choice, colour and variety of blooms available to make our day look fabulous?
A. Helen Carson says: No problem, there's a wealth of wonderful flowers and foliage available in this country without having to fly material in from abroad. For locally grown varieties Flowers From the Farm is a network of growers dedicated to promoting British cut flowers – great for the 'just-picked' look that's so popular now. Using eco-friendly florists, close to home, will reduce the footprint of your wedding as the flowers don't have to travel far. They'll be fresher and more likely to last, picked at their prime and not sat in a warehouse or airport waiting to be transported.

Stick to what's in season too, the blooms are likely to be bigger and the colours and quality more intense, and include foliage, twigs and natural material for an on-trend wild bouquet.
---
Contact our experts...
Jane Price
Marketing and events manager
Sara Sweet
Managing director
---