Ask the experts
Here is a selection of Q&As from Your East Anglian Wedding magazine. If you would like your question answered by our experts, please email it to editor@youreastanglian.wedding.
To view more Q&A's on a different topic, please select one from the list below.
Hot topic: Love is in the air
Local experts advise on romantic big-day touches
---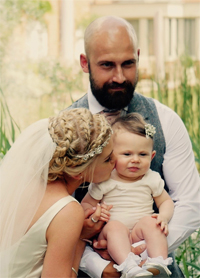 Caught on camera
Q. We want to capture all the special and most romantic moments of our big day on film. What are the key parts of the wedding that you think make the best footage and what kind of soundtrack would you suggest to create a memorable keepsake?
A. Peter Breame says: When you're choosing your videographer, it's important to do your research and check out examples of their work. Look out for the finer details in the films they produce including the things you and your partner might miss – shots of the congratulations cards, wedding jewellery, shoes or the opening of loving gifts to each other, your best girls being made up, the men getting suited and booted and dad's face as he sees his princess in her wedding dress for the first time. These details tell the morning story as you head off for the ceremony. As the wedding gets under away, key elements to capture include:

- The groom's face as he sees his bride in her dress for the first time

- People's expressions during the ceremony; especially the happy tears

- The looks between the bride and groom during the exchanging of rings – pure romance!

- The elation as the newlyweds leave the church, ready to greet their guests - The speeches; they can reveal a lot about the couple's love story

- The cake-cutting, first dance and all the personal details of the day

The wedding soundtrack is often one of the most overlooked parts but is really important. Ensure your videographer talks to you about it so you can exchange views, as sound and vision blended right makes for a much more involving film.

Remember, it's all about you! Watch lots of samples, not just the wedding highlights, ask to see whole films and arrange a meeting or two.

If you find a professional whose work moves you, that's the one to talk to and go with, as subconsciously they've made a connection with you.
---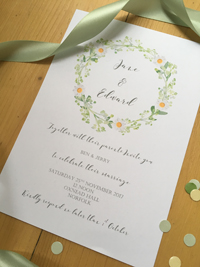 The write note
Q. We want our wedding stationery to reflect our love story. What colours, motifs, fonts and details would work well?
A. Jayne D'Arcy says: There's nothing more romantic than including personal touches and references on your wedding stationery, maybe something that only your family and friends know about you. It could be where you first met, first kiss, where the proposal took place, special places or your favourite flowers.

If you're following tradition and your fiancé is organising the stationery then it could be really romantic for him to surprise you with a personal reference or detail to include in the stationery. Other ideas include:

- Decorative lace
- Pastel colours, especially pink and blush shades
- Fresh floral printed invitations
- Using a single colour with added texture and dimension to create a romantic feel
- Bird motifs strung with ribbons, hearts, floral prints or whimsical monograms
- Personally written poems added as inserts to the invitations

The choice of fonts and typography is an important factor and trends are constantly evolving. I'd suggest using a cursive font for your names and a typeface one for the main body of text. There are some stunning fonts available that can make an invitation really stand out. Try playing with different coloured ink too. This alone can completely change the look of your stationery.
---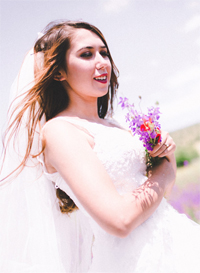 Finding the one
Q. We've just embarked on the big-day planning and one of the first things I want to get sorted is my dress. What would you advise on the look, style and colour of gown for a romantic-themed wedding?
A. Clare Szabo says: The romantic wedding theme doesn't have to be traditional and white. I love the idea of expressing a couple's love through the beautiful hues of a wedding dress, utilising soft, almost ethereal colours. A barely pink tulle can create a cascading ombre of colour that's as wild as it is delicate. And yet it's so effortlessly pretty and perfect for the romantic bride.

By keeping hair and make-up as natural as possible, and incorporating a wild-flower bouquet, you can achieve a bridal look that hints at a modern take on the wild, passionate love reminiscent of Heathcliff and Cathy in Emily Bronte's famous novel Wuthering Heights.
---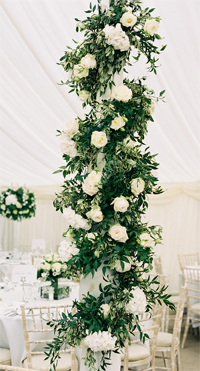 The complete package
Q. I've dreamed of a fairytale wedding for years and want all the romance and magic of our day to shine out in the styling, colour palette and theme. Any ideas?
A. Karen Mhende says: Romance is a sensory experience, so in order for your big day to tick all the boxes, you need to think about how your wedding smells and feels as well as how things look, taste and sound. You really can achieve a magical effect, no matter the budget, if you keep this in mind.

Ceiling drapes in textured yet delicate fabrics, such as chiffon, organza, or less costly nylon tulle, is an easy way to add the feminine touch to a venue. With that in mind, fabrics should be in neutral tones like ivory, white, or grey to create a relaxing, tranquil vibe without the interruption of single pops of colour. If you want primary or individual shades, choosing a pastel palette can maintain the mood.

Everyone knows that flowers are the way to a woman's heart, and teaming big full blooms with dim candlelight, or structural flowering branches wrapped with delicate stringlights provides an ethereal touch to a floral theme. Scented candles add another sensory element and will evoke fond memories every time you smell the fragrance. If your venue doesn't allow candles, having a signature wedding perfume will give a similar heady romantic effect.
---
Contact our experts...
Jayne D'Arcy
Wedding stationery designer
Karen Mhende
Wedding planner and stylist
---