Ask the experts
Here is a selection of Q&As from Your East Anglian Wedding magazine. If you would like your question answered by our experts, please email it to editor@youreastanglian.wedding.
To view more Q&A's on a different topic, please select one from the list below.
Hot topic: Themes and styling
Local experts on seasonal big-day themes and styling
---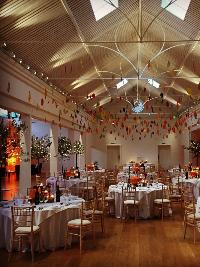 Bringing the outside in
Q. We're looking for inspiration and ideas on how to transform our intimate wedding venue into a magical indoor wonderland with autumn colours and natural details to reflect the great outdoors. Can you help?
A. Sue Huckle says: Weddings can reflect the seasons and ideas for decoration can be drawn from the natural world. Autumn is a very special time of year and the intense colours of the leaves and fruits can provide a wealth of inspiration for a warm and intimate celebration.

The wedding (pictured) took place at the Lady Elizabeth Wing at Holkham Hall last year. The couple Rose and Keiran made use of the vertical space by hanging handmade glass leaves in stunning autumn colours. It was very personal to the couple as they made them themselves in their studio in Holt (driftwoodglass.co.uk). It was a real labour of love, from designing and creating to hanging each individual glass leaf! Edged by large olive trees hired from Posh Plants and with the tables lit with Jack-o'-lanterns the overall effect is warm and glowing.

Another way of creating an autumnal feel is to hire some real living trees as decoration; a cost-effective and eco-friendly way of adding a natural touch. Large bay trees, with either twisted or straight stems, add a strong yet stylish touch with their dark green leaves and look great interspersed with some acers or liquidambar trees for an autumnal woodland effect.
---
We ♥ autumn
Q. My fiancé and I met in October and our first date was a romantic walk in the woods. It's our favourite time of year and we want to celebrate the season throughout our big day including the ceremony. Any ideas?
A. Rebecca Waldron says: Autumn brings a change of energy when it comes to wedding ceremonies. The fun, laughter and love are the same all year round but the service can be tailored to reflect the season.

For the ceremony you could ask everyone to wear autumnal colours, dress the area with lots of flickering candles and throw autumn leaves instead of confetti. You can also include seasonal readings or quotes relating to autumn, such as:

"In the autumn light her hair shone like a crown. They collected the world in small handfuls. When the sky grew dark, they parted with leaves in their hair." – The History of Love by Nicole Krauss

And if you're looking to include a nod to Halloween, why not have a Victorian steampunk theme and celebrate in style? Your wedding can be whatever you want it to be and if you book a celebrant, they can help you have a ceremony that reflects you and your partner's individuality.
---
Away from it all
Q. We're on the hunt for a venue with a difference for our relaxed wedding in October next year. We want somewhere warm and inviting with scope to add our own personal and seasonal touches. What would you advise?
A. Carolyn Godlee says: Where lovelier to host a small, intimate autumn wedding than a windmill? Here at Cley Windmill the red and gold tones of the reed beds set the scene perfectly and we'd recommend decorations to match. Keep to autumnal colours but don't overdo it – less is more! A deep gold wedding dress would look stunning or you could be even more adventurous and opt for an autumnal red instead – great for amazing photos!

The furnishings at the mill really complement this time of year – comfy leather chairs and sofas, deep red curtains and squashy cushions in autumnal colours. You could opt for a windmill-style wedding cake or something leafy for a seasonal touch; the possibilities are endless.

For a truly relaxed celebration a two-night stay with lazy check out is a popular option if you want to linger longer and explore Cley-next-the-Sea and the glorious North Norfolk coast. You can arrive in the afternoon or evening and enjoy a chilled pre-wedding supper and drinks. Tie the knot on the big day in the round, beamed sitting room when the weather's nippy or, if you're lucky and it's an Indian summer, outside on the front lawn with the reeds behind you. The Granary dining room is a characterful setting for the wedding breakfast and the mill sleeps up to 24, so there's room for guests to stay over.
---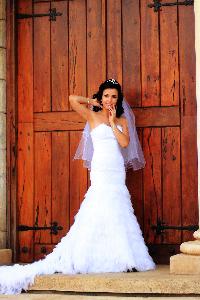 Seasonal chic
Q. We're recently engaged and one of the things we're both agreed on is an autumn wedding. What look and style of dress is on trend and suitable for the season?
A. Laura Spinola says: There are a number of new trends that we can expect to see in bridalwear in the upcoming months. Here are just some that would fit perfectly with an autumn-themed wedding:

- Big ball gowns incorporating multi-tiered skirts and more volume.

- Necklines continue to vary in order to cater for brides' personal preferences however high necklines, boat necks and off-the shoulder options remain popular following the royal wedding. V-plunging necklines are also a sexy and favoured choice.

- Long and fitted or split and floaty; sleeves are a great addition to an autumn style dress.

- Bows, bows, bows - ranging from subtle and practical to statement and sculptural, which ever option you choose, they'll add a chic and romantic touch to your wedding gown.

- Gowns in varying shades of ivory, cream, champagne, sea pearl, oyster, gold and nude will blend in perfectly with nature's autumn shades to create a picture-perfect colour palette. In addition, shimmery fabrics and metallic-hued gowns are sure to wow. Intricate leaf patterns as well as detailed florals continue to inspire lace designs. Great on a white or nude background to put you centre stage and tick the sophisticated, modern and/or sheer wedding-trend boxes.

- To keep the chills at bay, fur wraps as well as capes made from lace, tulle and/or chiffon continue to be a fashionable choice. If you prefer something more structured, bridal jackets make an on-trend style statement.
---
Contact our experts...
Laura Spinola
Designer and university lecturer
Rebecca Waldron
Owner and founder
Sue Huckle
Owner of Posh Plants
---