Ask the experts
Here is a selection of Q&As from Your East Anglian Wedding magazine. If you would like your question answered by our experts, please email it to editor@youreastanglian.wedding.
To view more Q&A's on a different topic, please select one from the list below.
Hot topic: Setting the tone
Local experts advise on big-day styling
---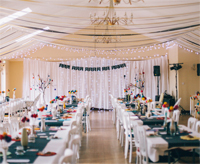 Making magic
Q. We're getting married in a country barn which is a complete blank canvas. What can we do to create a light and inviting atmosphere for our summer wedding?
A. Sandie Chivers says: With self-catering facilities you can make the venue look exactly how you want it to, although some couples find it hard to know where to start and how to make the most of what's available. For barn weddings, many brides and grooms immediately feel they have to stick to a rustic or vintage tone. Not at all; modernising the space can make the setting look just as beautiful and using the venue to your advantage will help with this. For example, Piggyback Barns, Norfolk, where I'm the event's organiser, is on a farm estate surrounded by open fields and there's a lovely courtyard for outdoor games, a chill-out tent or tipi, without blocking out any of the light.

To set the tone for your big day, keep backdrops neutral with traditional white, ivory and cream tones. You can then add accent colours such as summer brights, pastels or seasonal shades of coral, watermelon, pink, orange, yellow and aqua. Remember, you don't have to be restricted by your venue and with a blank canvas you can make it look as light or as dark as you wish if you use the facilities you have around you. Knowing what colours you want is a good start and make sure you visit the venue prior to the big day to make sure you know where things are placed.
---
Outside the box
Q. We're planning an al-fresco celebration for our boho-style wedding and want our guests to feel relaxed and enjoy themselves. How can we create a chilled vibe and give our friends and family a party to remember?
A. Stephanie Quilliam says: There's no set rules, anything goes for this style of wedding; check out Pinterest for inspiration and do whatever suits you. Think stylish, elegant, with a touch of hippie flair and you're on the right track.

Meadow flowers have the perfect feel but you'll need to keep them back until the last minute as they're prone to wilt.

Street food will add to the relaxed feeling. However, if you're not having a table plan to allow your guests to eat when they want, make sure you have a time schedule so friends and family know when some of the traditional formalities are going ahead.

Cheeses and pies are ideal for the evening served with crusty bread, salads and homemade chutneys. Celebrate with a ceilidh and dance the night away to a folk band.
---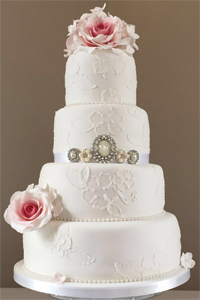 Sweet reflections
Q. We want the cake to be a focal point of our reception to coordinate with our blush pink and lace wedding theme. What would you suggest?
A. Lucy Brady says: This combination is perfect for adding a romantic feel to your wedding. To tie the whole look together, the soft colour and delicate texture can be reflected in your cake. There are many different ways of creating a lace effect and I love them all! Edible lace, appliqué and brush embroidery are great for a hand-crafted finish or a good quality lace ribbon also works well. To mirror the softness of the theme you can add flowers to bring through the blush pink tones. I decorated the four-tier wedding cake (pictured) using brush embroidery and blush pink sugar roses. The lace is created with individual brush strokes, which gives a delicate effect while the diamanté brooches add a touch of eye-catching sparkle.
---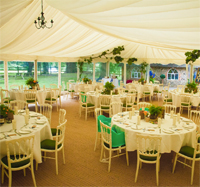 Nature's bounty
Q. We're having a marquee reception and would like to reflect our country wedding theme in the styling, layout and the type of food we serve. Any ideas?
A. Laura Young says: Now it's getting hotter this is a great theme and gives you a perfect opportunity to get outside and take inspiration from what's around you – while working on your tan of course!

Why not decorate the marquee with wild flowers, bunting and swap chairs around the room for hay bales for your friends and family to relax, while they tuck into a picnic-style lunch and toast to your future with your favourite local cider!

Wooden tables around the marquee will create a rustic country feel and you could decorate them with individual potted lavender or rosemary plants that can be used as place card holders and double up as favours, while also filling the space with a beautiful natural fragrance.
---
Contact our experts...

Laura Young
Caterer

Lucy Brady
Cake maker

Sandie Chivers
Wedding planner

Stephanie Quilliam
Wedding stylist
---