Ask the experts
Here is a selection of Q&As from Your East Anglian Wedding magazine. If you would like your question answered by our experts, please email it to editor@youreastanglian.wedding.
To view more Q&A's on a different topic, please select one from the list below.
Hot topic: 2017 big-day trends
Local experts advise on what's hot for weddings this year
---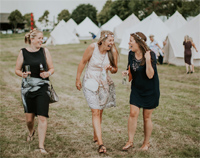 Under canvas
Q. We're outdoorsy people and want our wedding day to be relaxed and informal, yet still have plenty of wow factor. What current styling trends would work well with our theme?
A. Jenna Ackerley says: An outdoor, festival-style wedding is the perfect way to provide a stunning effect, without being too formal or stuffy. Giant tipis, glamping villages, chill-out areas, wild flowers, bunting and hay bales are the order of the day to create rustic glamour, which is bang on trend for 2017. What's more the celebrations can last an entire weekend!

Many couples choose to do the legal bit a few days before, and then hold a completely personal ceremony in a field or tipi on the day itself.

For the catering, why not choose a street-food van, paella or picnic to continue the theme? You can also go for a bring-your-own-booze option if budget's an issue. Sending out personalised festival wristbands as your save-the-dates is a novel way of communicating your theme too.
---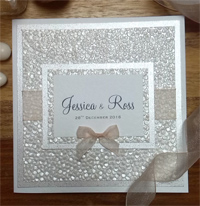 All in the detail
Q. We're newly engaged and are excited to get stuck into the wedding planning. We haven't set a theme or colour scheme yet and want to know what's on trend so we can make a bold statement with our stationery.
A. Jane D'Arcy says: There are so many new and emerging themes, details and inspiration around to help set the tone of your big day. Here's just a few ideas to get you started:

♥ Bows – the bigger the better
♥ Industrial-meets-luxe style
♥ Metallic copper, gold and silver elements
♥ Hunter green; a hot colour for 2017
♥ DIY stationery
♥ Mixed colour palettes
♥ Mixed materials including Kraft, pearlescent, textured and velum card
♥ Monograms and ornate fonts
♥ Watercolour florals
♥ Seasonal-themed wedding stationery
♥ Paper flower backdrops
---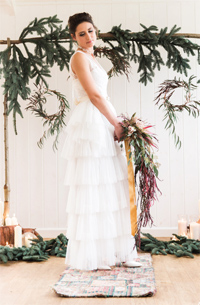 The thoroughly modern affair
Q. We're getting married this summer and are on the hunt for inspiration to make sure our big day is contemporary and stylish. What are your key predictions for the wedding season ahead?
A. Elizabeth Hall says: Last year's trend of bringing the outside in will continue in 2017 with many couples using foliage and floral garlands to decorate their venues.

Large oversized organic arrangements and displays look set to be more popular than traditional, formal styles. We also have lots of requests for hanging greenery, large trees and foliage ceremony backdrops. The greenery trend will be more elegant than rustic though, especially paired with the continued love for perspex and metallic details. Combining all three elements allows you to perfectly blend modern, luxe and organic.

From a catering perspective, food stations and feasting menus are increasingly popular; as is anything that gets guests interacting with each other. Couples love the idea of being able to give their friends and family an alternative to traditional wedding food – something that's more relaxed and fun.
---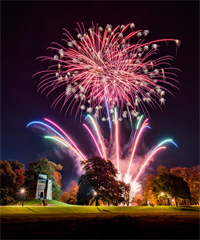 New ways to wow
Q. We want our big day to be something our guests will remember so we're planning to round it off with a grand fireworks finale. What would you suggest to make our display a real talking point?
A. Vanessa White says: Firstly I'd recommend using firework display professionals who specialise in design artistry. For a stand-out show there are new ranges of pastel shades and unusual colours that look great complemented by latest effects such as swirling flowers alongside some of the traditional crowd-pleasers. Choreography is key, filling the sky with patterns and layers, like a colourful rainbow arch or adding a loud whistle and crackle to surprise your guests.

Or why not go to the next level by personalising the display with your initials lit up in a firework champagne bottle design with a little popping surprise, like a heart or something meaningful to you? Whatever your theme or inspiration, your ideas can be brought to life.
---
Contact our experts...

Elizabeth Hall
Owner and creative director

Jane D'Arcy
Stationery designer

Jenna Ackerley
Director

Vanessa White
Fireworks specialist
---