Ask the experts
Here is a selection of Q&As from Your East Anglian Wedding magazine. If you would like your question answered by our experts, please email it to editor@youreastanglian.wedding.
To view more Q&A's on a different topic, please select one from the list below.
Hot topic: Autumn Weddings
Local experts advise on seasonal celebrations
---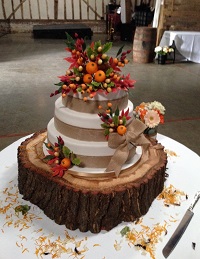 Autumn Tiers
Q. My fiancé and I met out jogging on a lovely, crisp morning in October, which is why we want to celebrate the season on our big day. What kind of cake would you suggest to complement the theme?
A. Leighann Baker says: How romantic! I'd suggest a move towards understated designs incorporating natural, earthy elements like wood and hessian. Complement the look with decorations such as handmade hessian roses or a burst of autumnal colour, with berries and gorgeous warm-toned, vibrant leaves. For an extra dimension, bring in metallic hues such as silver grey, rose and pale gold. Buttercream decorated cakes are also on-trend this year and are great for reflecting a rustic woodland theme.
---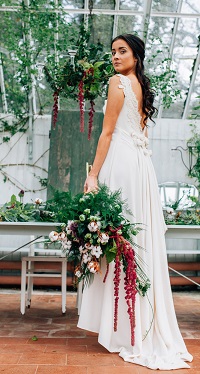 Nature's Bounty
Q. What type of flowers would you suggest for our autumn wedding to reflect a feel of the season?
A. Sharon Pointen says: This is the perfect opportunity to draw inspiration from what's all around us at this time of year. Beautiful branches and different fruits such as blackberries and plums, autumnal foliage, seed heads, trailing amaranth with seasonal hydrangea and brassica, give a relaxed nod to the botanical trend that's popular at the moment.

Rustic wooden or rope containers brimming with apples, textured herbs and foliage make great table displays incorporating lovely rich, red roses to make a real statement. Personally, I love using hops, especially for fabulous arch displays or around pillars and pedestals, intertwined with other seasonal blooms.
---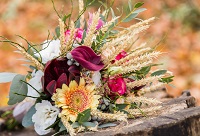 Big-day brainstorming
Q. We've just started on the mood-board for our autumn wedding and we're looking for inspiration for styling, props, colour palettes, suggestions and ideas. Can you help?
A. Stephanie Quilliam says: With all the changing colours it's a beautiful season to tie the knot. Think brown paper invites with a stencilled leaf motif. Orange, purple and green flowers look lovely together, maybe adding a few heads of barley as well.

For a woodland effect, moss, acorns, oak leaves and even a few wild mushrooms make great decorative details. Stage your displays using tree trunk slices or stumps; great for a drinks station complete with apple crates filled with harvest fruits.

Old wooden tables look fab with white china and vintage cutlery. You could team this with silver candelabra or glass lanterns with acorns or cob nuts at the bottom.

Pinterest has an array of inspiration to help you customise your day and don't forget to share your mood-boards with your venue and suppliers so they get a good feel for what you're after.
---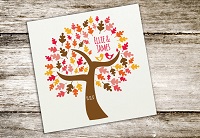 The Write Stuff
Q. We're getting married next November and want to reflect the time of year throughout the wedding stationery to give a flavour of our day. Any ideas?
A. Caroline Flello says: Simply looking outside is a fabulous starting point to get ideas. Think colours, and be inspired by the warm red and burnt orange shades of the changing leaves, the berry purple and deep ruddy hues of the hedgerows and the golden yellow sun for a luxurious wedding theme. For extra sparkle, why not add a touch of metallic bronze or gold?

Your stationery will be the first taste your guests will get of your seasonal theme. Go bold and introduce motifs such as leaves, trees and pinecones for a rustic woodland feel which you can carry through for your table centrepieces too. Or for something a little more subtle, introducing details such as brown Kraft paper, twine and hessian creates a suitable rustic look. There are some gorgeous pearlescent cards available for invitations which will not only add glamour, but the soft tones will help embrace the natural palette and beauty of autumn to make your invitations stand out from the crowd.
---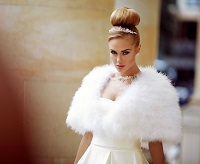 Style sense
Q. We recently got engaged and hope to tie the knot at the end of September next year. I want to look glamorous but also feel comfortable if the weather turns chilly. What would you advise?
A. Anna Hare says: Before choosing your dress, consider where your ceremony and reception are taking place, as while you may want something warmer for the church, you may not need it at the venue. A beautiful marabou feather stole worn over your shoulders is a great option to keep the chills at bay and super stylish too. They're really warm and can easily be removed for the photos or once you're inside. You could also try bridal boots instead of shoes because if your feet are warm your body should be too.
---
Contact our experts...

Anna Hare
Bridal boutique owner

Caroline Flello
Stationery designer

Leighann Baker
Cake maker

Sharon Pointen
Florist

Stephanie Quilliam
Wedding stylist
---